Description
RPA is a pyramid rubber wheel chock with an aggressive tread and three cavity base. This pyramid style molded rubber wheel chock allows for ease of placement, and drop-kick safety.
The RPA features an eye bolt for chain or rope attachment and has the highest weight to power ratio of any of our pyramid model chocks.
Best Use
Wide variety, general use.
Design
Material:

Molded Rubber

Size:

5.5"H x 9.25"W x 7.25"L

Weight:

7 lbs.

ItemNo.:

1224001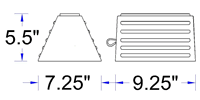 Function
Tire Size Rating:

Performance Rating:

7.8 Single (15.6% Paired)

Test to Failure:

Features:

Eye Bolt