Description
OUT-R is a small sized high-visibility pair of urethane wheel chocks roped together with 5/8 Orange and Black derby rope. For use on small tires. It has a pass through feature.
OUT-R are manufactured of hi-vis orange urethane which features a hydraulic elastomer that has excellent memory characteristics.
Best Use
Pickup trucks on mine sites, utility trailers
Design
Material:

Urethane

Size:

6"H x 7"W x 8.25"L

Weight:

6 lbs.

ItemNo.:

141600722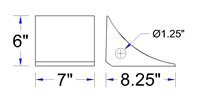 Function
Tire Size Rating:

Small Tires, Hi-Vis.

Performance Rating:

n/a

Test to Failure:

Features:

Light - Brite and easy to use.