Description
MWG is our signature high quality medium duty molded aluminum wheel chock. It is designed to provide a super-high coefficient of friction to road surface.
Featured in the MWG is a built-in hand hold that will not cut hands or tires, as well as a light weight design that make it perfect for repetitive placement and retrieval.
Commonly used on ambulances, wreckers, fire trucks, propane delivery vehicles, and many more uses.
Best Use
Ambulances, Wreckers, Fire, Propane, and Utility Trucks. Trailers.
Design
Material:

Aluminum

Size:

7"H x 6.25"W x 12"L

Weight:

5 lbs.

ItemNo.:

1125002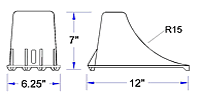 Function
Tire Size Rating:

Medium Tires

Performance Rating:

13

Test to Failure:

Features:

Molded Aluminum, Highest Friction Coefficient, Grip teeth keep it in place, even on ice.