Description
HRG-R are heavy duty high density molded rubber chocks paired with 5/8 black/yellow derby rope. They use a very sticky live rubber to ensure high coefficients of friction. HRG-R has no metal parts. This assures non-sparking or scratching of paint.
Best Use
Widely used - Loading Docks, Fire Trucks and HUMMERS.
Design
Material:

Molded Rubber

Size:

8"H x 7"W x 10"L

Weight:

26 lbs.

ItemNo.:

121400102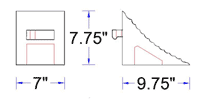 Function
Tire Size Rating:

Large Tires

Performance Rating:

9.5 % (19 paired)

Test to Failure:

Features:

Features are molded in: easy grab handle area, and elbow fixture. Paired with rope.