Description
AS06-R light rubber wedge are roped with 5/8" derby rope. These chocks are designed for use with smaller tired vehicles such as small air crafts, sports cars, compressors or carts. Its six inch wide solid base, and extruded molding make this a rugged small wheel chock choice.

AS06 is made of durable EPDM rubber with an aggressive tire contact area that promotes adhesion.
Best Use
Small radius tires, small aircraft, carts.
Design
Material:

EPDM Rubber

Size:

2.5"H x 6"W x 3.75"L

Weight:

4 lbs.

ItemNo.:

124760602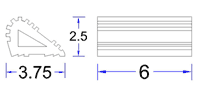 Function
Tire Size Rating:

Small Aircraft

Performance Rating:

N/A

Test to Failure:

Features:

Yellow high-visibility tape