Description
ARM-10R Medium aircraft chocks, constructed with durable extruded EPDM rubber, paired with durable 5/8" derby rope. These chocks are an excellent choice for all prop and turbo-prop aircraft and helicopters. The perfect chock for Beechcraft, Cessna, SOCATA and many more.

Color tape or rope options allow you to customize the chock to your aircraft. Standard features include yellow vinyl tape with easy to carry, yellow-black derby rope. Also excellent for ground service equipment.
Best Use
Commuter Class Aircraft. Lear, Citation,Cessna, etc...
Design
Material:

EPDM Extruded Rubber

Size:

3.5"H x 10"W x 4.25"L

Weight:

12 lbs.

ItemNo.:

124561002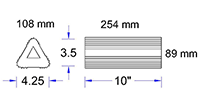 Function
Tire Size Rating:

Small/Medium Aircraft

Performance Rating:

Nominal

Test to Failure:

Features: