Description
ARB16-RSi Big extruded rubber wheel chock designed for winter use with large aircraft.
The ARB16-RSi is made of durable, high performance EPDM rubber and features ice points and a rope carry-sling. These chocks stick to ice and snow. Orange rope is highly visible on snow.
The ARB16-RSi are an excellent choice for large aircraft in icy conditions.
Best Use
Large aircraft / Winter use
Design
Material:

Extruded Rubber

Size:

5.75"H x 16"W x 6.5"L

Weight:

22 lbs.

ItemNo.:

124421612002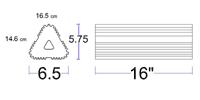 Function
Tire Size Rating:

Large Aircraft

Performance Rating:

Nominal

Test to Failure:

Features:

Ice points for slick or icy surfaces.