Description
AR04-R Stozer-V2 is a small, wedge shaped wheel chock made of durable extruded EPDM rubber.
These chocks come paired with 1/4" cotton sash rope.
Heavy-duty Stozers feature a grip base for superior traction.

AR04-R Designed for smaller radius tires.
Hold carts and small aircraft steady. Especially effective in holding stowed items in place.
Best Use
Small radius tires, small aircraft, carts.
Design
Material:

EPDM Rubber

Size:

2.2"H x 4"W x 3.5"L

Weight:

3 lbs.

ItemNo.:

124740402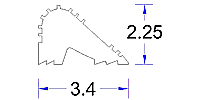 Function
Tire Size Rating:

Small Wedge

Performance Rating:

N/A

Test to Failure:

Features:

Yellow, high-visibility striping. Paired with rope.