Description
AH-04R are a light weight, low height, extruded EPDM rubber, contour chocks that are paired with black, 1/4 inch, braided nylon rope.
AH-04R's low profile is designed for use with aircraft with wheel fairings or "pants". Also suitable for smaller tires or carts.
Its aggressive tire contact area promotes adhesion and friction.
Best Use
Small radius tires, small aircraft, carts.
Design
Material:

EPDM Rubber

Size:

2"H x 4"W x 3.5"L

Weight:

2 lbs.

ItemNo.:

124720402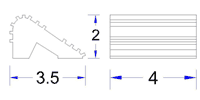 Function
Tire Size Rating:

Small Contour

Performance Rating:

N/A

Test to Failure:

Features:

Low profile design, won't hit wheel pan.