RPAR
RPA-R Large Rubber Pyramid Chocks
Paired with Rope
Regular Price:
$72.00
Sale Price: $
36.00
RPA-R are paired pyramid rubber wheel chocks with rope. These chocks have an aggressive tread and three cavity base.

RPA-R pyramids allow for ease of placement and drop-kick safety. They have the highest weight to power ratio of any other pyramid model.
Order
RPAR
Product Number:
1224 001 02
COMMON STOCK - Yes we typically carry these in stock. We will notify you if there are delays.
Unit Regular Price:
$72.00
Unit Sale Price: $
36.00
Specifications
Design
Dimensions
Material:

Molded Rubber

Size:

5.5"H x 9.25"W x 7.25"L

Weight:

19.5 lbs.

ItemNo.:

1224 001 02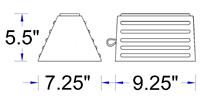 Function
Tire Size Rating:

Large Tires (3 Cavity)

Performance Rating:

7.8 Single (15.6% Paired)

Test to Failure:

Meets SAE standards (paired)

Best Use:

Wide variety, general use.
Chock Test Video Coming Soon
Brackets & Accessories for RPAR