HGSYDHT
Made in the USA
HGSY-DHT Dual Standard Aluminum Chocks
Molded Yellow Chock with Aluminum Hand Truck
Regular Price:
$390.00
Sale Price: $
195.00
HGSY-DHT is a all aluminum durable wheeled hand truck with dual attached standard aluminum wheel chocks that allows for fast, easy placement and retrieval. Featured on the HGS-DHT are rugged rubber tires and striped tape. The HGS-DHT is highly visible and durable and requires no bending to retrieve - reduces risk of back injury.
(Click to See Larger Version of this Picture Above)
Order
HGSYDHT
Product Number:
1124 003 145

Unit Regular Price:
$390.00
Unit Sale Price: $
195.00
Specifications
Design
Dimensions
Material:

Aluminum

Size:

36"H x 30"W x 12"L

Weight:

35.0 lbs.

ItemNo.:

1124 003 145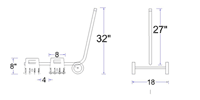 Function
Tire Size Rating:

Large "Standard" Tires

Performance Rating:

16

Test to Failure:

20,000 lbs. static

Best Use:

High adhesion and capacity. Easy use for loading docks.

Features:

HGS Type. Yellow Powder coated steel hand truck.
Chock Test Video Coming Soon
Brackets & Accessories for HGSYDHT